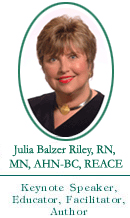 Clients include:
Associations
American Association of Occupational Health Nurses
American Holistic Nurses Association
American Hospital Association
American Society for Healthcare Risk Management
American Society of Pain Management Nurses
Associated Home Health Industries of Florida
Area Agency on Aging, Jacksonville and Tampa, Florida
Brenau University, School of Nursing
Carolina Society for Health Care Education and Training
Diabetic Educators Conference, Roanoke, Virginia
Elliott Hospital, Manchester, New Hampshire
Florida College of Natural Health
Florida Hospice and Palliative Care Association
Georgia Rehabilitation Association
Governor's Safety and Health Council ( Florida)
Greater Indianapolis A.O.R.N., Indianapolis, Indiana
Minnesota Case Managers Network
National Association of Hospital Admitting Managers
National Association of Neonatal Nurses
National Association of Pediatric Nurse Practitioners
National Association of School Nurses
National Conference of Gerontological Nurse Practitioners
National Gerontological Nurses Association
National Expressive Therapy Association
National Assoc of Employee Health Professionals
National Assoc of Hospital Admitting Managers
National Assoc of Rehabilitative Nurses
Pilot International, State of Florida and Georgia
Red Hat Society ( Florida)
Society for Arts in Healthcare, Edmonton, Canada
Spiritual Eldering Institute
Healthcare
Alexandria Hospital, Alexandria, Virginia
American Cancer Society
Baptist System Healthcare Corporation, Memphis, Tennessee
Cedars-Sinai Medical Center, Los Angeles. California
Dorthea Dix Hospital, Raleigh, North Carolina
Executive Links, Inc, Canada
Florida Hospital, Orlando
Hand in Hand, Home Health Agencies, Gainesville, Georgia
The Hillhaven Corporation
Illinois Coalition Against Sexual Assault
Michael Reese Hospital and Medical Center, Chicago, Illinois
Optima Healthcare Insurance Services, California
New Orleans Cancer Institute
Northern Virginia Mental Health Institute
Providence Hospital, Washington, D.C.
Rehabilitation Institute, Pittsburgh, Pennsylvania
Sharp Cabrillo Hospital, San Diego, California
Spartanburg Regional Medical Center, South Carolina
St. Alexius Medical Center, Bismarck, North Dakota
St Joseph's Hospital, Atlanta, Georgia
St Joseph Medical Center, Missouri
St Mary's Hospital Medical Center, Madison, Wisconsin
St. Mary Rogers Hospital, Rogers, Arkansas
St Vincent Healthcare Foundation, Billings, Montana
St. Vincent's Medical Center, Jacksonville, Florida
University of North Florida
University of Florida, College of Nursing, Commencement Speaker
Washoe Medical Center, Reno, Nevada
Wellness Community (Southwest, Florida)
Western Baptist Hospital, Padukah, Kentucky
Western Michigan University, School of Nursing
Business
American Transtech (a subsidiary of AT & T)
Blue Cross-Blue Shield Insurance. Florida
Investors Insurance, Jacksonville, Florida
Kimberly Clark
Medical and Receiving Center, Florida State Prison
Metropolitan Ministries, Tampa, Florida
Miami-Dade Recreation Department, Miami, Florida
Naval Air Station, Jacksonville, Florida
Ronald McDonald House Board, Jacksonville, Florida
Vistakon, Division of Johnson & Johnson
United Community Church, Sun City Center, Florida
University of Virginia
---
The clients reactions:
"Julia was the perfect keynote speaker to open a conference with such an uplifting presentation. Just what we needed" Participant, 1998 American Association of Pain Management Nurses
"I cannot say enough good things about this teacher. She went beyond the norm in all aspects of teaching" Brenau University leadership student
"Everyone has a renewed sense of commitment. You truly worked magic with the group. I commend you on your skills as a facilitator." From a retreat for the board of a Ronald McDonald House
"I have never encountered a more gifted educator, she designed and implemented our customer service training." From a hospital administrator.
At a national staff development conference, 450 people gave Julia a standing ovation.
"I post Julia's columns on my bulletin for my clients." From a family therapist.
"She brings creativity and humor to any training opportunity and uniformly makes learning fun." From a medical center Vice President
---
Home | Meet Julia | Keynotes | Julia's Books | Client List
Moments of Connection | Spiritual Eldering | Expressive Arts in Healing
Julia Balzer Riley, RN, MN, AHN-BC, REACE
Constant Source Seminars
PO Box 438
Ellenton, FL 34222-0438
TEL: 941-776-8024
FAX: 941-776-8433
Email: julia@constantsource.com
Nurse Speaker, Tampa Nurse Speaker, Keynote Speaker, Julia Balzer Riley, RN, MN, AHN-BC, REACE
Copyright © 2022 Constant Source.

Webtivity Designs - Bradenton, Fl website design & development